Healing the Divide Is YPPL's August Pick!
Young People's Poet Laureate, Naomi Shihab Nye, has chosen Healing the Divide: Poems of Kindness and Connection as her Book Recommendation for August through the Poetry Foundation! Take a look at what she had to say below about this anthology. Naomi has been such a kind and tireless advocate for this book, and I can't thank her enough!
Book Pick
Healing the Divide: Poems of Kindness and Connection
By James Crews
(Green Writers Press, 2019)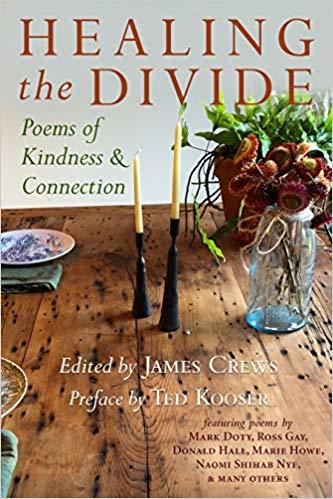 My favorite book of the year so far. You can feel the loving intention of Vermonter James Crews behind every selection in this exquisite anthology—the hope for a better society and world for people to grow up and actually live in. Here are sustaining poems by Mark Doty, Ross Gay, Marie Howe, Linda Hogan, Lahab Assef Al-Jundi, and so many others. This humanizing collection is a perfect gift for teenage readers who adore poetry—or even the ones who think they don't like it. It is also a perfect gift for middle and high school teachers who are encouraging writing with their students because the poems are great examples (positive contagion!) of other people's writing. Our nation's first Native American poet laureate, Joy Harjo's poem "Remember" was probably read aloud in 5,000 classrooms by me alone. These poems are a necessary balance to all the depressing, repetitive chitchat everyone must endure on TV. Here is the unbreaking news, people.
https://www.poetryfoundation.org/learn/young-peoples-poet-laureate